Safe Travels to Atlas Shrugged

Here was the scene recently in the ARI parking lot — employees with dollies and carts unloading boxes from the back of an 18-wheeler. The boxes contain books — copies of Ayn Rand's works, like Atlas Shrugged, The Fountainhead and Philosophy: Who Needs It.
Jeff Janicke, ARI's business operations coordinator, informed me that although this shipment appeared large, at only half a palette (or approximately 32 boxes of books), this is on the small side of what ARI handles regularly.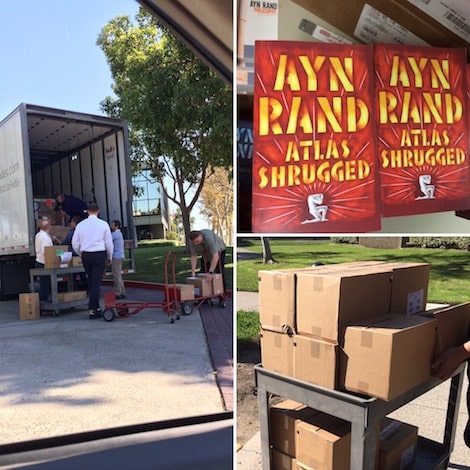 ARI acts as a hub, shepherding books, which this time includes copies of Atlas Shrugged with Penguin's new cover, to destinations all over the world. For example, Janicke says that when one of ARI's experts, like Carl Svanberg or Yaron Brook gives a talk in Europe, a box of books and pamphlets meets him there. And there's no doubt that some of these books will also make their way to high school and college classrooms across North America. Thanks to the generous support of our donors, we provide free copies of Rand's novels, along with guides for teaching them, to schools in the United States and Canada.
That's because there is no substitute for getting Ayn Rand's works directly into the hands of curious and thoughtful individuals, especially students.
Here's wishing these books safe travels and hoping they find fertile minds when they arrive, wherever that may be.