Prominent Legal Blogger Upholds Free Speech After UCLA Bans ARI Book

The Volokh Conspiracy is one of the nation's most widely read legal blogs. Under the Washington Post's online umbrella, the site's twenty-two contributors (all law professors or lawyers) tackle some of the most complex issues in the news, especially those with a distinct legal aspect that will benefit from expert analysis.
Recently the site's founder, Eugene Volokh, a constitutional law professor at UCLA and expert on freedom of speech, weighed in on the banned-book controversy, involving a book by ARI's Elan Journo and Onkar Ghate, that erupted at a recent Federalist Society event at his university. Here's how Volokh set the context for his readers:
On Feb. 1, the Ayn Rand Institute and the UCLA School of Law chapter of the Federalist Society put on a program at the law school, "Is Free Speech Under Attack?" The program featured Flemming Rose, editor of the Danish Jyllands-Posten newspaper involved in the original publication of the Danish Muhammad cartoons, and author of The Tyranny of Silence: How One Cartoon Ignited a Global Debate on the Future of Free Speech; Steve Simpson, the Institute's legal director; and political commentator Dave Rubin. . . .
Before the event, though, the Institute had set up a book display on a table in the hallway and offered the books for sale. There were four books, including Failing to Confront Islamic Totalitarianism: From George W. Bush to Barack Obama and Beyond, by the Institute's Onkar Ghate and Elan Journo: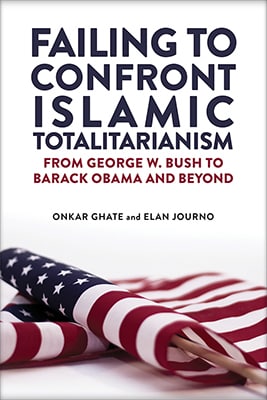 Some students disapproved of the book and started arguing with the Institute people. And then a law school administrator demanded that the Institute remove the book, apparently on the grounds that it was "inflammatory."
That, I think, was clearly wrong, and indeed a violation of the First Amendment. Public universities can't bar groups — student groups or others — from displaying books on the grounds that the viewpoints are "inflammatory."
Volokh's post follows up with a clear, concise legal analysis of the university's errors and applauds the school's administration for its prompt apology and pledge to ensure that similar incidents don't happen again. He also praises ARI for its "gracious acknowledgment" of the school's apology.
Read the whole post, which is titled "No 'inflammatory' books allowed — we're a university, after all . . .", here. For Elan Journo's post on the episode and its denouement, see his blog post here and his initial article at The Hill here.