A Grateful Teacher Receives Free Ayn Rand Novels

Each year, the Ayn Rand Institute distributes hundreds of thousands of copies of Ayn Rand's novels and nonfiction books to schools through our Free Books to Teachers program. Putting a book directly into the hands of students is a powerful way to expose them personally to Ayn Rand's ideas. Most of these books are sent by mail to middle schools, high schools and colleges across the United States and Canada. So it's a rare treat when we can deliver the books face-to-face.
Recently, I rode along with Zane Mitchell, high school programs manager, and Stewart Margolis, teacher outreach coordinator, to deliver copies of Anthem, The Fountainhead and Atlas Shrugged to a high school near ARI's California headquarters. Waiting to receive the books was Don Jay King, business and tech instructor at Cypress High School and advisor to the school's Future Business Leaders of America program.
"We are constantly sending out books, but for the most part, we don't get to directly interact with the teachers and students who are getting them," says Margolis. "When a teacher is local and as enthusiastic about the books as Mr. King is, it's a great opportunity for us to meet the people our program is benefiting — and for them to meet us."
King has been teaching at Cypress High for fifteen years and has been the FBLA adviser for the past eight years. "Future Business Leaders of America is the oldest student-run business and technical academic club in the country," he says. Under his leadership, his class competed in over seventy-five events last year and went to the national competition for the third year in a row.
"The club is run by a board, just like a business," says King, "and they work on business projects, such as web page design or organizing events." Students attend competitions where they participate in mock job interviews and tackle tasks that test decision-making ability. The competition judges are business professionals, and King says participation in the program has led to jobs and scholarships for his students.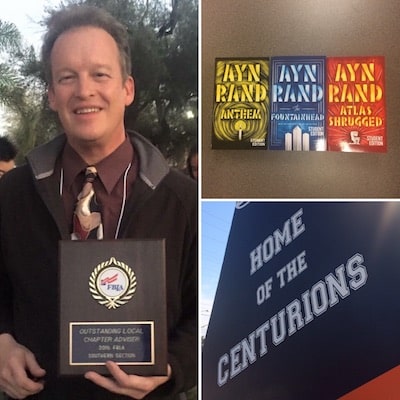 King requested classroom copies of Ayn Rand's novels so that his FBLA students could have the same experience reading them that he'd had. "I've personally read each one. I wanted to become an architect when I was young," says King, "and the personal struggles of Howard Roark in The Fountainhead really made an impact on me. I'm looking forward to reading these books again myself and sharing them with my students." King plans to re-use the books each year as part of the FBLA program. "They are great resources," he observes.
King's enthusiasm is infectious — when I arrived back at the ARI offices, I found myself invigorated thinking about whom those books might reach. In my own case, a high school debate coach handed me a copy of The Virtue of Selfishness and that changed my life. I don't like to think about what would have happened if he hadn't. Each book we delivered to Cypress High School felt like a source of hope for an even better future.
You can help put Ayn Rand's books into the hands of the next generation of business leaders, artists and scientists by contributing to the Ayn Rand Institute's Free Books to Teachers program.
Image: Ellen Oh, FBLA Southern Section Vice President of Membership.