Programs & Initiatives
Empower
WRITING
ARI's philosophic mission calls for questioning and rethinking the basic premises embedded in our culture. To do that, convincing scholarship and incisive commentary are indispensible. Our experts write about Rand's philosophic system and apply it to today's issues — from epistemology to free speech to foreign policy — illustrating the power of her ideas to guide not only the individual toward happiness but also society toward freedom. In their editorials, essays, journal articles and books, ARI's writers connect with key audiences: scholars, teachers, students, policymakers, think tank analysts, activists and businessmen.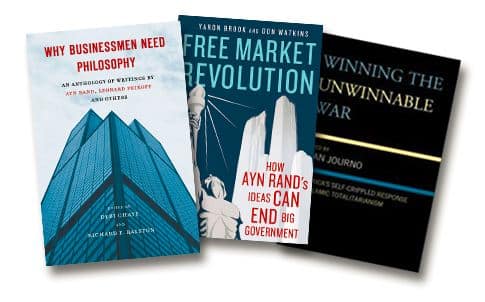 SPEAKING
Our experts speak about Rand's philosophy at academic conferences and in corporate boardrooms, at public debates and in university lecture halls, at briefings for congressional staff and in high school classrooms, at Tea Party rallies and in industry seminars. Engaging live audiences and often sharing the stage with other influencers in the field, ARI's experts discuss such issues as the foundations of morality, the perils of government intrusion in medicine, the bankruptcy of Social Security, the turmoil in the Middle East, the causes of financial crises and the moral case for laissez-faire capitalism.
MEDIA
ARI's writers and speakers regularly appear in major media outlets to convey how Rand's ideas can clarify problems of the day and point us to a brighter, capitalist future. Our opinion pieces have been published in such venues as the Wall Street Journal, USA Today, Foxnews.com, CNN, Huffington Post, Forbes, Businessweek, Foreign Policy and the Guardian. Top TV and radio broadcast channels, including CNN, Fox News, MSNBC and NPR, have sought commentary from ARI's experts on both Rand's philosophy and its application to current affairs.