New Book From Ayn Rand Institute Press — Defending Free Speech, edited by Steve Simpson
June 30, 2016
New Book from AYN RAND INSTITUTE PRESS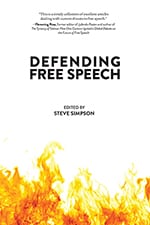 Defending Free Speech
Edited by Steve Simpson
IRVINE, Calif., July 30, 2016 —The Ayn Rand Institute announces the publication of a new book, Defending Free Speech, which former Jyllands-Posten editor Flemming Rose describes as "a timely collection of excellent articles on current threats to free speech." Edited by former constitutional lawyer Steve Simpson, ARI's director of Legal Studies, the book serves as both a warning and a call to action: defend free speech—or we will lose it.
Defending Free Speech addresses the Islamist attacks on cartoonists—and our leaders' tepid and appeasing response; the growing culture of sensitivity on America's campuses—in which students seek "trigger warnings" and "safe spaces" to shield them from controversial ideas; and the intimidation from our own government—in the investigations of ExxonMobil for climate apostasy and the calls for limits on political speech. Defending Free Speech analyzes not only the threats to free speech, but also the ideas that underlie those threats, as well as the better ideas—reason, egoism, and individual rights—necessary to defend this precious right.
"It's time to admit that freedom of speech is slipping away from us," said Steve Simpson. "If we don't understand why this is happening and how to defend the right to free speech, we will lose it."
Harvey Silverglate, civil rights attorney and co-founder of the Foundation for Individual Rights in Education describes Defending Free Speech as a "remarkable collection of essays . . . [that] should inspire and mobilize any friend of liberty to fight even harder for what we all must recognize is a do-or-die battle to protect the core of our civilization."
In addition to Mr. Simpson, contributors to the book include ARI senior fellows Dr. Onkar Ghate and Elan Journo, and ARI founder Dr. Leonard Peikoff.