Government & Business
Individual Rights
New Book: Defending Free Speech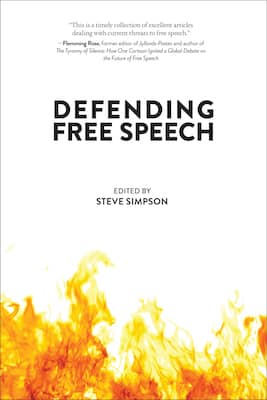 "[S]o long as you have free speech, protect it," Ayn Rand said. "This is the life-and-death issue in this country . . ." Ayn Rand is right; free speech is indispensable. Yet, today our freedom of speech is under attack, and increasingly so. Consider some recent examples:
To terrorize us into self-censorship, Islamists slaughter cartoonists for the depiction of Mohammad and threaten to murder allegedly "blasphemous" authors like Salman Rushdie.
To shield their feelings from "offensive" speech and controversial ideas, college students demand "trigger warnings" and "safe spaces" on campuses.
To end the climate change debate, our government investigates ExxonMobil for climate apostasy.
To address these and other attacks on free speech, ARI recently published Defending Free Speech, which former Jyllands-Posten editor Flemming Rose describes as "a timely collection of excellent articles on current threats to free speech."
Edited by Steve Simpson, ARI's director of Legal Studies, Defending Free Speech analyzes not only the threats to free speech, but also the ideas that underlie those threats, as well as the better ideas — reason, egoism, and individual rights — necessary to defend this precious right.
The book serves as both a warning and a call to action: defend free speech — or we will lose it.
Harvey Silverglate, civil rights attorney and co-founder of the Foundation for Individual Rights in Education, describes Defending Free Speech as a "remarkable collection of essays . . . [that] should inspire and mobilize any friend of liberty to fight even harder for what we all must recognize is a do-or-die battle to protect the core of our civilization."
Contributors to Simpson's book include ARI senior fellows Dr. Onkar Ghate, Elan Journo and ARI founder Leonard Peikoff.
We at ARI have always been staunch defenders of the individual's unconditional right to free speech. We have, for example, defied the growing climate of self-censorship by publicly showing various controversial depictions of Mohammad, including the Danish Cartoons, the Charlie Hebdo magazine covers and Bosch Fawstin's winning artwork from the Muhammad Art Exhibit and Contest in Garland, Texas.
Join us in the fight for this extremely important value. Buy your copy of Defending Free Speech today. More about the book, the contributors, and what others are saying about the book is available here.
Additional resources: